More Customers' Comments
More comments from our customers


At the age of 33, I decided to make a lifelong dream come true and I purchased my first horse, Steve-O. I don't know why I bought the 5 year old off-track thoroughbred gelding. He was not much more than skin and bones. After he came home, our relationship started fine. However, as he became more fit, I realized he had little training and he began to bolt and buck. My confidence was shattered by his uncontrollable behaviour and the many falls that resulted. Although it broke my heart, I considered selling him. I had reached my final straw and did not know what to do and I turned to G&K Training Centre. After 60 days, I got the horse I had always wanted and my confidence has returned in spades. Thank-you so much Gary and Kerri!


Jen C. Chatsworth, ON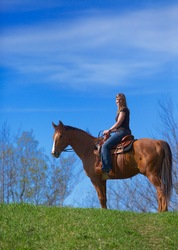 Sending my mare Splash to Gary was one of the best decisions I have made. With a good foundation of the basics, she has developed into a solid, versatile, well-rounded horse. Everywhere we go, I am constantly getting comments from spectators as to how well broke she is. Less than 6 months after bringing her home from training I had taken her to her second show ever, Equine Affaire, in Ohio. In front of over 5000 people, she performed alongside 11 other horses in a drill routine in the dark and was also ridden by a small child in a performance from a local therapeutic riding center without taking a wrong step. Being able to watch the training sessions and have Gary explain what he was doing was very much appreciated. It made the transition from the training to bringing her home that much easier as I knew what buttons had been installed. Thank you Gary and Kerri for starting my horse off right!
Ashley T. Canadian Cowgirls Drill Team