Catalog
Continental Saddles
We always have a few Continental Saddles in stock as well as a variety of other quality tack. These saddles are our main brand that we carry due to their quality and comfort for both horse and rider. We can custom order any model that Continental carries so that it is designed to your own personal specifications or you can choose from one of our in stock saddles.
Continental C86 Penni Gerardi
The Continental C86, Penni Gerardi, is probably one of our most popular models. It has the same flex tree that Continental is known for as well as the memory foam seat and the narrow twist. Standard size that we keep in stock is a 16 inch seat, FQHB (6 3/4" gullet) and medium fenders. This saddle is available in the round skirt as well as a square skirt.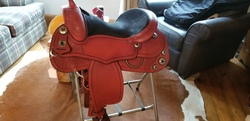 C 90 Chesterfield Performer Custom
This beautiful saddle is a custom creation for a customer. It's a nice dark vintage colour with upgraded conchos with tips, conchos in the gullet and a black Buffalo seat. This saddle demonstrates the flexibility you have in creating your own unique saddle without breaking the bank.
Continental C17 Plain Reiner
The Plain Reiner is another popular model with the same flex tree, narrow twist and memory foam seat. It has no tooling to be cleaning, just a nice smooth leather finish so you won't be constantly cleaning. This saddle works well down the trail or in the show pen as well as perfect for Ranch Riding classes. Standard stock is 16 inch seat, FQHB (6 3/4" gullet) and medium fenders.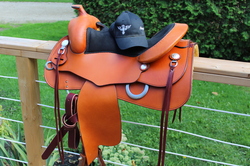 C 18W Robin Schoeller Daily Performer
This saddle is great not only for everyday riding but fancy enough for the showpen. This saddle was customized with a deep seat and a dark antique colour.
Wonpads
To compliment your working tack we carry the well known Wonpad. These pads are great for a nice fit and easy clean up with the scuba grade neoprene backing. In stock we have the 1 inch pad with the neoprene and flex vents as well as the 1/2 inch with neoprene backing and flex vents.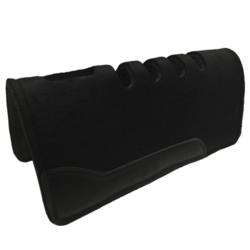 Quality working tack
Every rider should have their own quality working tack. This tack should be made from quality leather, with quality stitching and craftsmanship and stainless steel hardware. Gary has designed his own line based on years, or should we say decades, of training young horses. Gary offers working headstalls, one earred, quality leather, stainless steel hardware, leather reins that are available in 5/8" or 1/2" and 8 ft lengths. The martingales are very unique and based on Gary's training program. The are durable, flexible, adjustable and made to last.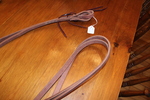 Martingales that are designed by Gary and based on his training program. Leather is quality leather with stainless steel hardware. Working forks are made from a durable bungee material to provide some give/release for a young horse or older horse that needs refreshing.